EQUINE-ASSISTED PRIVATE SESSIONS
for INDIVIDUALS, COUPLES, and FAMILIES
with Beverley Kane, MD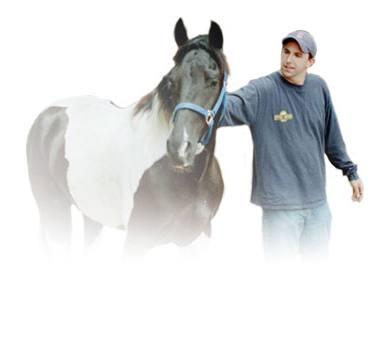 Are you feeling stuck or stressed or experiencing frequent conflict and miscommunication? Do you long for better relationships? Are you at a stage in your life where you seek new direction and purpose? Equine-Assisted Activities and Therapies (EAAT) helps you discover, or recover, your skills for daily living, your joy, passion, creativity, and equine-imity. If you are seeking to strengthen your ability to live life with meaning and integrity, let the horses be your guides.
Horses teach humans how to develop the capacity for clear communication, leadership of self and others, healthy relationships, self-care, and living a life true to one's self. Interactions with horses bring out the strengths we need to make wise choices, navigate life transitions, and find peace, meaning and joy in daily living.
Horses give honest, immediate, and nonjudgmental feedback about the messages they receive from us. They read our body language, our energy levels, and our emotional states. The role of the equine-assisted therapist is to help you observe and interpret the horse's responses to you and relate this information to patterns in your work, community, family, and spiritual life.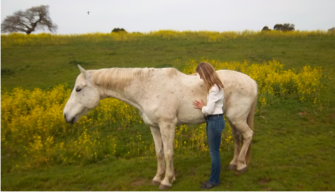 Which Type of Session Should I Choose?
Each type of session described below lends itself to addressing your special challenges. However, you do not need to choose a specific program prior to your appointment. Many times people don't even know what question to ask. Or they are trying to answer someone else's question.
All appointments allow for spontaneous development of life themes based on each person's unique interactions with the horses. In EAAT we say, "What's up is up." This means that no matter what we title a session, what truly needs your attention will always reveal itself in the process. The sessions are flexible enough to use any psychological, somatic (of the body), or psychospiritual technique as needed.
Sessions are conducted on the ground with one or more mature, gentle horses in a natural herd. Sitting on a horse and moving on a horse (riding) may be added as suggested by "what's up" for you in the sessions.

EQUINE-ASSISTED ACTIVITIES AND THERAPIES
Equine-Assisted Personal Development (EAPD) helps you work on communication, leadership and followership, decision-making, and committing to healthy life choices. Where are you at in your life and where do you want to be at? Where do you want to go from here?
In addition to addressing specific issues in your life, EAPD allows you to simply enjoy fresh air and sunshine, hills, and forests, and playing with horses. In this healthy environment, you will learn to:
Communicate clearly
Recognize when your communications are not what you intended
Express yourself honestly without fear of reprisal
Give and receive trust
Identify your style of leadership
Know whether, when and how to be the leader or the follower
Explore limiting beliefs, ineffective coping mechanisms, and destructive projection dynamics. (You can project all over the horses. They don't mind!)

Equine-imity Somatic Horsemanship and Somato-spiritual Counseling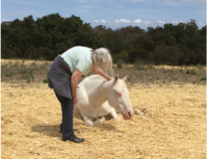 Somatic means "of the body." Horses are the ultimate models of healthy embodiment. Unlike domestic cats and dogs, horses are not socialized to human prejudices or esthetics around eating and eliminating.
Combined with breathing, centering, and body awareness exercises, somatic work with horses teaches you how to be at ease in your body, how to reduce stress and practice emotional self-regulation, how to achieve a positive body image, how to appreciate your physical gifts and accept your limitations.
Somatic Horsemanship may include:
Exploration of body image and body self-acceptance
Body scanning for areas of tension and stress
Breathing, centering, and meditating with horses
Mindfulness, tai ji, and qigong techniques for relaxation and emotional self-regulation
Petting, leading, and grooming horses
In advanced sessions, sitting and riding meditations on horses with music

Non-denominational Equine-Assisted Psycho-Spiritual Counseling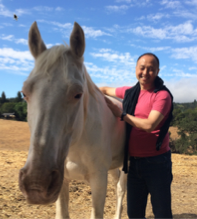 Psycho-spiritual counseling deepens your ability to integrate your religious beliefs and spiritual practices into everyday life. You can increasingly apply your core principles to all aspects of your life. You can cease despairing of the contradictions that arise between your highest spiritual self and the "sinful self" that gets thrown out of integrity by the frustrations it confronts in the modern world. The pastured horses that we play with, more so than stalled horses or house pets, are uncorrupted and in integrity with their true nature.
You will learn to:
Appreciate horses as spiritual beings
Appreciate horses as spiritual beings
Integrate mind, body, and spirit in the way that horses do
Re-establish your connection with nature

Equine-Assisted Psychotherapy
Horsensei's Licensed Clinical Psychologist and Equine Life Coach, Kaitlin Medeiros, LMFT, provides psychotherapy with horses for a wide range of issues including divorce, life transitions, marital conflict, weight loss, substance abuse, premarital concerns, burnout, low self-esteem, stress, grief, parenting teens, and co-dependency.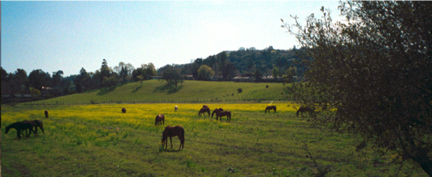 These sessions can be held at your ranch. For more information, or to schedule a program, contact
sensei@horsensei.com
or call 650.868.3379.