HORSENSEI PAYMENT PROCESSING
Payment for books, thumb drives, and consulting is easy and secure with our PayPal shopping cart. No need for a PayPal account—you can use your Visa, MasterCard, American Express, or Discover card as well as PayPal.


THE MANUAL OF MEDICINE and HORSEMANSHIP
Transforming the Doctor-Patient Relationship with Equine-Assisted Learning
$115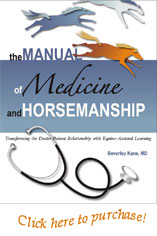 The Perfect Bound softcover manual with full color photos is available from AuthorHouse. Purchase of the printed Manual includes a half-hour consultation with Dr. Kane to help establish your Medicine and Horsemanship program.

THE MANUAL OF MEDICINE and HORSEMANSHIP—THUMB DRIVE
VERSION 4.0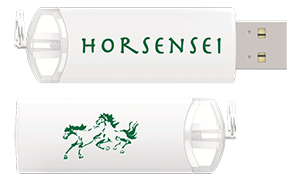 The Manual of Medicine and Horsemanship thumb drive contains a wealth of handouts, schedules, photos, videos, publicity information, a PowerPoint presentation suitable for Medical Grand Rounds, and other valuable documents—all developed and used by Dr. Kane in her practice.
What's new in Version 4?
The updated thumb drive contains an extension to the text of the Manual itself with:
New types of Medicine and Horsemanship programs
New references
Revised recommendations for Medicine and Horsemanship and equine-assisted learning industry practices
The thumb drive also updates all of the important materials on previous versions. Click here to see the thumb drive contents.
If you currently own the Manual of Medicine and Horsemanship with earlier CD versions, you can upgrade to Version 4 now provided in a convenient thumb drive. You can purchase the thumb drive by itself and you can purchase additional copies of it. Prices include shipping in the United States and Canada.

CONSULTING AND FACILITATION
For telephone or video consulting and onsite services by Dr. Kane. Hourly, daily, and project-based. Email: consulting@horsensei.com