Horsensei
Horsensei Equine-Assisted Learning and Therapy (HEALTh) is a partnership of humans and horses that teach interpersonal communication to individuals and families and to medical, corporate, and community groups.
Horsensei, pronounced "horse sen-say," is a triple entendre—three meanings that all fit together. First, the word holds the idea of horse sense, our common term for common sense. Sensei means teacher in Japanese. In equine experiential learning, the horse sensei is both the horse as a teacher of humans and the human who teaches with horses.
Horsensei equine experiential learning programs draw on the unique size, sensitivity, and social dynamics of horses to help humans master basic life skills and successful interpersonal behaviors. Our custom-designed programs let you choose objectives ranging from recreation to deep psychospiritual transformation. Horses have a way of effecting both at once.
Lead Mare
EAGALA Level III
Certified Horsemanship Association Level I
Dr. Kane has taken a long and winding road to Horsensei. Early on, she was on the path to becoming an artist, then a computer scientist...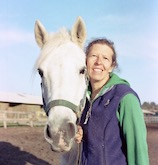 ---
Robin Murphy, CTRI, has been riding and working at Webb Ranch since 2001. In 2012, she graduated from San Francisco State University with a degree in Child Development, focusing on Child Services...

---
Kaitlin Medeiros has fostered her love for horses over the past 18 years. Kaitlin started riding lessons at Webb Ranch as a child. She originally pursued a career in equine studies, before majoring in psychology. She has since worked with horses in various capacities...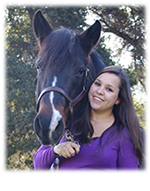 ---
Medicine and Horsemanship Faculty
EAGALA Level II
Elizabeth Carey was born and raised in San Jose, before it was known as Silicon Valley. In her childhood, she built forts in the cherry tree orchards, before the condominiums and corporations took over the open space...