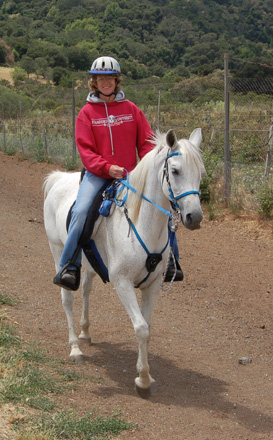 Liz Carey was born and raised in San Jose, before it was known as Silicon Valley. In her childhood, she built forts in the cherry tree orchards, before the condominiums and corporations took over the open space. Her youth was filled with sports and music and Girl Scouts and Future Farmers of America projects. She rode horses whenever she got the chance.
Liz graduated from Stanford in 1981 with a major in Human Biology and a minor in English. This excellent education uniquely suited her to become a well-qualified high school teacher, and she pursued that career intermittently for nearly 20 years, teaching chemistry, physical science, earth science, and English in the public high schools of Lodi and Stockton, in California's Central Valley. In between her stints as a teacher, however, she followed her bliss for a career with animals: she worked at several large- and small-animal veterinary clinics, at a large commercial Thoroughbred breeding and training ranch, and she managed a horse-boarding stable. She also discovered the joy of riding fast, spirited Arabian horses, and has competed in and crewed for numerous endurance and ride-and-tie events in the past 15 years, including the Tevis Cup, the AERC (American Endurance Ride Conference) National Championship ride, and the XP 2001, a 2,000 mile ride from St. Joseph, MO, to Virginia City, NV.
In 2007 Liz discovered the field of equine-assisted growth and learning, and completed the EAGALA (Equine-Assisted Growth and Learning Association) Level I and II training within a year. Liz says, "I feel that this field is the perfect wedding of my vocation as a teacher and my avocation with horses. I have been blessed to have Dr. Beverley Kane as a mentor and a friend in this field. We have become a great team, teaching Medicine and Horsemanship."
Liz is shown here with her 13 year-old (2009) Ride-and-Tie champion Arabian mare, Basia.