DAYS OF WINE AND HORSES
Combined Activity Packages


Horsensei and
Garrod Farms
are proud to present a three-part program that combines organizational development with recreation—rewarding a job well done and aspiring to a job done better.
You can choose one, two, or all three components of the package.
MORNING – Equine-Assisted Experiential Learning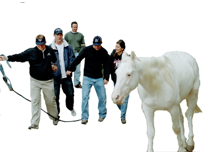 Equine-assisted experiential learning is a proven way to improve
leadership and followership skills
, build
high functioning teams
, and ensure
clear, respectful communication
throughout your organization. Half a day with the horses is more effective than many days in the classroom. With horses, we guarantee no pie charts, PowerPoints, or profiling. Each program is custom-designed to meet your group's developmental objectives. Full-day programs are also available alone or in combination with horseback riding and wine-tasting. Special programs for medical professionals.
Read more…

EARLY AFTERNOON – Horseback Riding
After a
catered lunch
, you will experience a guided horseback ride through Garrod Farms and the Fremont-Older Mid-Peninsula Open Space Preserve on the eastern slopes of the Santa Cruz Mountains facing San Jose. Our trails wander through vineyards and oak chaparral forests teeming with wildlife at a thousand foot elevation, featuring spectacular views of San Francisco Bay and Santa Clara Valley. Each person will be matched with a horse for a one-hour riding tour. No experience necessary. An outdoor event that everyone can enjoy. A truly unique adventure!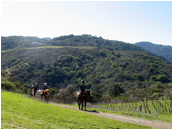 MID AFTERNOON – Wine Tasting
After our trail ride, we'll tie up the horses to the hitching posts and belly up to the counter in the The Fruit House, the
Garrod Farms
tasting room, where you'll sample award-winning estate wines and feast on a gourmet cheese and cracker spread.

The sunny days, moderate nights, and long growing season of the Santa Cruz Mountains, which are south of San Francisco and overlook the Pacific Ocean and the San Francisco Bay, have long been recognized as ideal for world class wines.
The Garrod family began involvement with California agriculture and open space in 1893, purchasing lands from the Mount Eden Orchard and Vineyard Company. Our label recalls glorious apricot and prune blossoms which enhanced spring views from our hillside earlier in this century.
For more information or to schedule your program contact:
or
Tel: 408.867.9257 - Fax: 408.741.1169