Horsensei Consulting Gift Certificates
Give the Gift of Horses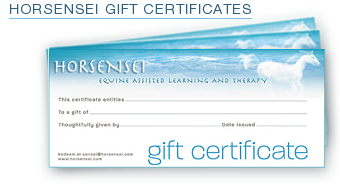 A gift certificate for equine-assisted learning, psychotherapy, or psychospiritual personal development is the perfect present for any occasion and for all life transitions. Give someone the magical experience of discovering horses for the first time or of reconnecting with the horses he or she loved as a child. Recipients may use the gift certificate toward the any Horsensei service or workshop.
Each session is individually designed for your recipient based on a pre-visit conversation. Your recipient chooses his or her service. Options include:
Somatic Horsemanship – A phased mind-body integration program that may include riding. Recipient may do one or all four phases.
Equine-assisted psychospiritual counseling – Recommended for those experiencing life transitions or seeking life's deeper meaning
Full or partial payment toward any Horsensei public workshop
The Gift Certificate shown above is available as an alternate to the PayPal version by e-mailing sense@horsensei.com after PayPal transaction is complete.
No horse experience needed. All activities are conducted on the ground except Phase 4 of Somatic Horsemanship
Pricing
Beverley Kane, MD, $200 initial hour, $150 each additional hour
Horsensei Workshops—See Calendar Page