The Manual of Medicine and Horsemanship
Transforming the Doctor-Patient Relationship with Equine-Assisted Learning

Adapt the proven Stanford Medicine and Horsemanship course to your equine-assisted learning or equine-assisted psychotherapy program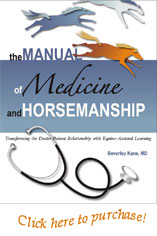 With this ground-breaking manual, any person—or group of people—with healthcare, equine and experiential education expertise can learn to conduct programs that teach medical students and healthcare professionals the interpersonal skills needed needed for the doctor-patient relationship and all professional interactions. Medicine and Horsemanship is also for nurses, physician assistants, nurse practitioners, integrative medicine practitioners and all professionals with direct patient care responsibilities.
This manual provides the essentials you need to develop your own Medicine and Horsemanship program. You begin with a foundation of the practical and philosophical principles of teaching good bedside manner. You then learn to conduct equine-assisted learning programs specifically designed for the unique needs of medical students and healthcare professionals—through the detailed, step-by-step exercises provided. Finally, you will learn how to obtain the enthusiastic support from medical institutions and manage the administrative issues of your program.
Introductory Consultation
No book can cover all situations or answer all questions about developing a Medicine and Horsemanship program. In order to help you succeed, your purchase of the manual includes a 30-minute phone conversation with Dr. Kane. Use this time to ask any questions about your unique challenges and make plans for the future of your program.
Need more help? For extended assistance on developing and executing your program, Dr. Kane is available for consulting by phone, e-mail, or in person.
Working with horses teaches patience, gentleness, and respect, all of which are essential to a good doctor-patient relationship. Our Medicine and Horsemanship course teaches these skills in a most direct and dramatic way. Now, with Dr. Kane's Manual of Medicine and Horsemanship, the Stanford experience can be replicated at almost any medical center.
Samuel LeBaron, MD, PhD
Professor of Medicine
Stanford University School of Medicine
For more information about the program at the University of California San Francisco and Stanford University medical schools, read the Medicine and Horsemanship Monograph.
After reading The Manual of Medicine and Horsemanship, you will be able to:
History—

The Evolution of Medicine and Horsemanship from natural horsemanship, experiential education and equine-assisted therapies, and its relationship with other equine therapy programs

Philosophy—

The founding principles and course objectives

Psychology—

The psychological principles that form the basis for all didactic and horse activities in the program

Getting Started—

Training yourself; selecting your facilitators, horses and facility; dealing with medical institutions

Activities and Scheduling—

Fully explained classroom and horse activities

Administrative Issues—

Important details for a successful program, including academic credit, continuing education, insurance and release forms, institutional review boards, financial considerations and public relations

Appendices—

Supporting materials, including a Checklist for Getting Started

Bibliography and Resources
The CD that came with the original version of the Manual, per the order form on page 83, is no longer available. Dr. Kane will provide you with handouts, workshop schedules, and graphics from the CD immediately after your consultation, as determined by your program needs, at no charge.
Special pricing is available only with direct purchase from Horsensei. Please e-mail Horsensei for details.